"If gold has been prized because it is the most inert element, changeless and incorruptible, water is prized for the opposite reason — its fluidity, mobility, changeability that make it a necessity and a metaphor for life itself. To value gold over water is to value economy over ecology, that which can be locked up over that which connects all things." ― Rebecca Solnit
The nightmare that comes to me while I sleep always begins the same way. I am standing next to Colesville Road in Silver Spring, Maryland, near where Northwest Branch creek crosses this highway.
But instead of the small filtration station that once served the modest-sized dam a couple of hundred yards upstream, there is massive hi-rise development everywhere: acres of uber-modern condos and swanky shops cover the ground where I once pried off samples of translucent mica from the soft sandstone in the forest above the creek.
In the nightmare, the stream valley on both sides of the highway, once crowded with ancient trees, has been denuded and the resulting silt has turned the once clear waters a sluggish brown. The boulders and small waterfalls downstream are still there, but bake in the sun instead of being protected by the cool shade of an Eastern forest.
When I to hike down the creekside trail, it never leads to the house I once called home. I become lost amidst unfamiliar boulders and side trails that lead nowhere. When I awake I am filled with a deep and terrible sadness. This is a recurring nightmare of mine. It comes upon me frequently.
During my teen years I explored that publicly owned stream valley for miles in both directions, often hiking through the water in an old pair of tennis shoes. I came to know the sucker fish who swam in the shallows, the tadpoles of the vernal pools and the box turtles who would seek relief from the summer heat in the calm areas of small feeder streams.
Fallen logs across the creek provided easy bridges to the old suburb of Woodmoor, high on the other side of the valley, where the branch library kept me furnished with a steady supply of science and science fiction books.
In the winter, the half-frozen waterfalls became an ever-changing sculpture garden of icy surrealism.

Northwest Branch north of the small dam
Teddy Roosevelt visited Northwest Branch in 1904 and wrote to his son: " … there is a beautiful gorge, deep and narrow, with great boulders and even cliffs. Excepting Great Falls, it is the most beautiful place around here."
Northwest Branch crosses the geological fall line between the Piedmont and Atlantic coastal plain regions which explains the small waterfalls south of Colesville Road.
Rachel Carson's former home where she wrote much of "Silent Spring" is near Northwest Branch. The trail there is now called the Rachel Carson Greenway. Famed photographer Alfred Eisenstaedt photographed her near the creek for a 1962 Life Magazine article.
Although the stream quality has been adversely affected by storm water runoff from the crowded suburbs that surround it, it is afforded some protection by government agencies of Montgomery and Prince Georges County. The Neighbors of Northwest Branch organization leads nature walks there and monitors its condition.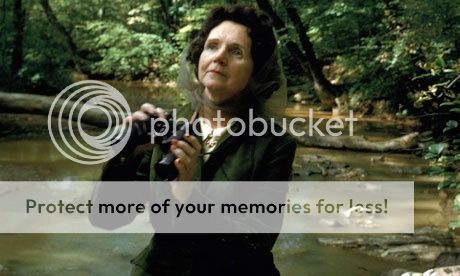 Rachel Carson birdwatching along Northwest Branch
So why do I have recurring nightmares about Northwest Branch instead of recurring dreams of its beauty, a beauty that has largely survived since the end of the last Ice Age?
Why? Perhaps because Northwest Branch is a part of the Anacostia watershed.
It empties into the dangerously polluted Anacostia River which flows past Southeast DC, a largely African American working class community. Much of the pollution comes from suburbs upstream or from the rest of DC across the river. A short distance away, across the bridges that span the river, are the EPA headquarters and the Congress that passed the Clean Water Act.
According to the National Resources Defense Council: "Toilets in the Capitol regularly flush directly into the Anacostia — our federal government needs to show leadership and contribute its fair share to cleaning up the District's rivers."
Apparently Congress really does give a shit about our watersheds.  That contrast alone is almost too much to bear, even as citizens groups and official agencies work to slowly repair the Anacostia River.
But in the face of greed and misplaced priorities, official agencies and well intentioned citizens groups are an easily breached line of defense. Powerful financial interests do it all the time.
So despite its present status as public parkland, the eco-system of Northwest Branch remains vulnerable.
But perhaps these nightmares about a favorite creek also stem from other places as well. Three women I've met are in a Michigan jail for non-violently protesting an Enbridge company pipeline that would carry Canadian tar sands oil across the Midwest. Tar sands oil is one of the dirtiest petro-products ever.
In 2010 leakage from an Enbridge pipeline caused the largest inland oil disaster in US history when it polluted Michigan's Kalamazoo River.
In both West Virginia and North Carolina, energy companies recently leaked toxins into rivers with seeming impunity. In Northern Alberta where oil and gas development has ravaged the traditional lands of the Cree peoples, Melina Laboucan-Massimo said this:


"My community has dealt with three decades of massive oil and gas development. And this has been without the consent of the people or without the recognition of protection of the human rights which should be protected under section 35 of the Canadian constitution, which protects  aboriginal and treaty rights."
It is the reckless burning of coal, oil and gas that is accelerating climate change, drastically altering the hydrology of the entire biosphere.
Meanwhile, the snowpack of the High Sierras in California shrinks as climate change sweeps across the planet. What will become of those frigid fast flowing mountain streams whose waters I drank and whose rushing sounds lulled me to sleep as I camped near their banks.
And how many Californians depend upon that snow pack for their home water supply?
The UN tells us that," More than 2.7 billion people will face severe shortages of fresh water by 2025 if the world keeps consuming water at today's rates…"
I can't be the only person who is having nightmares about fresh water, the lifeblood for terrestrial beings. My prehistoric Scottish ancestors once designated pools, springs and other water sources as sacred places of worship, as did other peoples around the planet.
But as social critic Karl Marx wrote,"… all that is holy is profaned, and man is at last compelled to face with sober senses, his real conditions of life, and his relations with his kind."
I believe in neither gods nor goddesses. But the next time I visit Northwest Branch, my own personal shrine to water, I will offer a silent prayer.
May we please make water sacred again?

A small waterfall along Northwest Branch
——————————————————————
A socialist since he was a child, Bob "BobboSphere" Simpson is a retired history teacher now living in Oak Park IL.
Sources Consulted
Neighbors of Northwest Branch

Rachel Carson Greenway & Northwest Branch Stream Valley Park Trails
Northwest Branch  Subwatershed  Action Plan
Robert B. Morse Water Filtration Plant
Cleaning Up the Anacostia River by the National Resources Defense Council
Michigan Coalition Against Tar Sands
Report Warns Of Severe Water Shortages By 2025
"The massive school closings that have been part of CPS's  broader strategy dating back to the 1990s have drastic consequences: they tear apart school communities, disrupt deep and strong relationships between students, parents, and teachers, and dismantle organizations which are often students' only centers of stability and safety."—The Black and White of Education in Chicago
Chicago's historically working class West Side has never been an easy place. Because of its concentration of poverty, the struggle for survival has always been part of daily life. The West Side has also been a center of social activism: From the Haymarket martyrs, to the Jane Addams-led Hull House, to today's anti-poverty activists of Action Now!
Despite growing gentrification on the traditionally segregated West Side, most of the area remains majority Black and Latino.  In 2013 quality education became a battleground as the Chicago Board of Education closed 50 schools, most of them in Black and Latino neighborhoods.
Over the past 3 months I attended meetings on the West Side about what to do in the wake of the closings. These discussions quickly expanded into topics like charter school proliferation, testing abuse, gentrification, scripted curricula, the school to prison pipeline, and Common Core. Expert speakers presented solid data as a basis for future action.
January education meeting on Chicago's West Side
Valerie Leonard of the Lawndale Alliance noted that,"The West Side has really taken a disproportionate hit. The West Side has 17%  of the [Chicago] schools, but we have absorbed 47% of the loss." Chicago's West Side was clearly a a major target in the war against public education. Read more
"When Snarf's workers are under attack, what do we do? Stand up fight back!"
"When the working class is under attack? What do we do? Stand up fight back"
The chants rang out at noon on January 8 2014 in the ten degree temperatures left behind by the retreating Polar Vortex. But the bitter cold did not deter fired Chicago Snarf's workers and their allies in the Workers Organizing Committee of Chicago (WOCC) from holding a lively picketline and press conference.
The 14 workers from a River North Chicago Snarfs had all been summarily terminated just 2 days before Christmas in a widely publicized mass firing. The excuse was that the store was to be "remodeled".
Faced by a storm of bad media publicity, the Colorado-based Snarf's CEO issued a Christmas Day Facebook apology. He promised that the workers would all receive a week's severance pay. As of this writing there has been no sign of either the "remodeling" or the promised week's severance pay. As Snarf's worker Kevin Brown wryly pointed out,"If you get fired by e-mail, you apparently get apologized to by Facebook."
January 12, 2014 by
Bobbo
·
Comments Off

on Fired Chicago sandwich workers continue the struggle: Fight for $15!
Filed under:
Society and Economy
,
Unions
Tags:
Workers at a Snarf's Sandwiches, located inside of the Groupon Building on  Chicago's North Side, received a nasty surprise on the night of December 22.  Based on an e-mail they received, they logged into the online scheduling website only to find that Snarf's was closing for a 2 week "remodeling" period  and they had been "terminated"
All 14 workers (or 20 according to the Huffington Post) had been fired without warning or just cause. Sara Mergenthal was among those Snarf's workers who reacted with anger and disappointment:
"It's just so upsetting to me the way they would do that. I never thought of them as a fantastic corporation doing great things for the world, but I never thought they would do that to people who make money for them."
Most of the Snarf's workers at her location support the Workers Organizing Committee of Chicago (WOCC)  and had joined both the August and recent December 5 Fight for $15 strikes.Some workers had been at Snarfs for as long as 3 years. At the December strike Snarf's worker Kate Zieglar told me she had been there for 2 1/2 years and still only made $9.50 an hour.
Snarf's workers had gotten 500 signatures supporting their demands on a petition circulated among other people in the building. The December 5 strike was able to shut down the store for the day.
The December 5 strike
The strike issues were low wages, no sick leave, no vacation days and no rational system for raises. Snarf's did institute a complicated rating system so that if a worker scored in the 90th percentile, they might get a raise. One Snarf's worker told me that most people never got one.
Monday morning at the shuttered Snarf's

As soon as WOCC organizers got the word about the firings, they began contacting members and supporters to assemble at the Groupon Building on Monday morning, December 23. By around 9 am, more than 30 people had arrived.
Kevin Brown, a Snarf's worker and WOCC organizer Hannah Joravsky laid out the strategy. Two of us would leaflet people around the building and urge them to call Snarf corporate HQ to protest the firings.The rest of us would go in quietly as a delegation and ask the Snarf's manager inside to call corporate HQ and tell them to rehire the workers and pay severance.
Store manager William Ravert listens to the workers' demands
The shop was closed with a heavy iron gate adorned with a sign saying the it was being "remodeled", though there was no sign of that inside. William Ravert, the manager finally appeared, and peered out through the grate as a WOCC representative told him:
"We are demanding that you put these workers back on schedule because you did not warn them and let them know there was going to be construction going on and we feel you are retaliating against them. There are more than 30 people here and there  are going to be even more people here if you do not call corporate and give these people their money back for the weeks that you took off. You also need to to give these people their jobs back."
Hannah Joravsky then explained to the manager that WOCC will be filing formal charges, and will let all of the customers in the building know what happened to the employees who had stood up for their rights. Ravert then disappeared into the darkened depths of the store, after saying he would call corporate HQ. Snarf's workers were skeptical that he would actually do it and figured he was probably just "running away".
In front of the Groupon Building Snarf's
By this time a building security official was in the lobby and clearly unhappy. After some negotiations, the WOCC organizers decided that we should go to the other Snarf's location at Prudential Plaza near Michigan Ave downtown and demand that the manager of that store call the corporate office.
We meet the manager of the Snarf's at Prudential Plaza
There were no customers in the shop when we gathered around the front counter of Snarf's at Prudential Plaza. After some haggling, the manager did agree to call corporate HQ in front of us. He even told us that he agreed with most of WOCC's demands.
Hannah Joravsky (center) lays it out to the manager(left) of the Prudential Plaza Snarf's
We left chanting, "We'll be back! We'll be back!" and gathered outside to plan the call-in to Snarf's corporate HQ. As I left, WOCC was meeting with the Snarf's workers to plan further actions.  This is the first mass retaliation against a WOCC protest and WOCC does not plan to  let this happen without a fight.
In addition, WOCC believes that Snarf's actions violate federal labor laws and plan to make a case for that. WOCC has already filed an official complaint for a 3 day company enforced lockout after the December 5 strike, claiming that it was retaliation.
Huffington Post reported that Snarf's corporate HQ finally did issue a response. Director of Marketing Jill Preston said that business had been bad and that the store would reopen as a hamburger joint. She said that while the company could not afford to pay $15 an hour, she also claimed that the workers "…do make a lot of money on tips."
She expressed regret that no notice of the firings was given, but urged them to collect unemployment and '"…keep an eye out for the grand opening of the new store."
Since she would not guarantee that workers would be rehired at the "new store", this cheery message came as cold comfort to employees like Kevin Brown, Kate Zieglar and Sara Mergenthal, all of whom had worked so hard to improve conditions at Snarf's.
As we walked up the stairs away from the Prudential Plaza Snarf's,  Sara Mergenthal told me that while Snarf's management had always claimed that the workers were a part of the Snarf's family she now knows that,"They really don't care about us."
Like several other Snarf's workers she will be flying home with news for the family," Merry Christmas, Mom. I'm unemployed."
Sources consulted
Snarf's Sub Shop Just Fired All The Employees At A Chicago Location Via Email, 3 Days Before Christmas by Kim Bellware
The Snarf's At 600 W. Chicago Just Laid Off All Its Employees Via Email by Meg Graham
December 23, 2013 by
Bobbo
·
Comments Off

on Chicago sandwich workers fired 3 days before Christmas: Fight for $15!
Filed under:
Uncategorized
Tags:
As mountain ranges go, the Scottish Highlands are not very high. None of its mountains top more than 4409 ft (1344m). In contrast Mt. Mitchell in the Southern Appalachians is 6,684 feet (2,037m). Denali in Alaska is 20,320 feet (6,194m) and Everest in Nepal is 29,029 (8,848m).
Yet because of its northern location and ferocity of its weather, the Scottish Highlands is a center for training Everest-bound mountaineers.
I had come to Scotland with Estelle Carol to see the land where some of my extended family still live. And to climb Ben Nevis. As a young boy I was made aware of my Scottish ancestry in a general way and had developed a sense of what it should mean to be Scottish-American.
December 15, 2013 by
Bobbo
·
Comments Off

on Climbing Ben Nevis in the Scottish Highlands
Filed under:
Environment
Tags:
"Poverty is not an accident. Like slavery and apartheid, it is man-made and can be removed by the actions of human beings."– Nelson Mandela
The USA has a new War on Poverty, but this one is not led by a US president, but by the low wage workers of this country. The Workers Organizing Committee of Chicago (WOCC) is a part of this national movement, demanding $15 an hour and a union for retail and fast food workers. This Fight for $15 campaign is a key part of the larger low wage workers movement.
Way back In 1964,  President Lyndon Johnson declared in his State of the Union address,"This administration today, here and now, declares an unconditional War on Poverty in America."
As part of his War on Poverty, Johnson proposed an ambitious set of social programs rivaling those of Franklin Roosevelt during the Depression of the 1930's. Johnson's War on Poverty ended in surrender beginning in 1968 because of the costly Vietnam War and the election of Richard Nixon.
Although it did not end poverty, the first War on Poverty was not the total failure that many critics label it. Largely a response to the Civil Rights Movement, it gave us such critical social programs as Medicare, Medicaid, Head Start and the Food Stamp Act. Today the USA has some of the worst poverty of any wealthy nation, but it would be far more devastating without these programs. Read more
December 10, 2013 by
Bobbo
·
Comments Off

on Fight for $15: The New War on Poverty
Filed under:
Uncategorized
Tags:
"Every tree has its enemy, few have an advocate. In all my works I take the part of trees against all their enemies".—- J.R.R. Tolkien
It was the largest tree my seven year old eyes had ever seen. Stately thick limbs spreading out into a huge leaf canopy that seemed to reach skywards forever. Beneath was a small clearing of grass and dirt where I could admire the tree house that the big kids had built, complete with  small boards attached to the tree to make a ladder upwards.
The tree house was sturdily built with a strong platform, a roof of boards and a glassless window where one could look out on the rest of the forest. And best of all,  the big kids who built it told me I could use it anytime. I have no idea how old these kids were, probably no more than 12 or 13. But they were nice big kids, not the like the bullies I often encountered in Glenmont MD of the 1950's.
These big kids were also kind enough to reveal another wonder of the forest. The nearby creek. It was not especially wide, maybe 6-8 ft across and no more than a foot deep. But it ran crystal clear with glittering flecks of mica and small stones scattered across its sandy bottom.
It also contained marvelous creatures I had never seen before. Crayfish. They were small, no larger than the minnows that swam nervously about. The big kids would hold crayfish in their hands and watch them snap their tiny claws in defiance. I had no desire to catch one myself. Seeing one amidst the rocks was enough for my curiosity. Besides they were fast and experts at concealment when they detected any motion from above.
It was a Child's Garden of Eden. And I had no idea someone actually owned it. I was familiar with peoples' yards. They surrounded the small bungalows of the neighborhood and were clearly part of each family's property. Some even had fences around them. Read more
December 10, 2013 by
Bobbo
·
Comments Off

on A Child's Paradise Lost
Filed under:
Uncategorized
Tags:
"I'm proud that this Neighborhood Schools Fair came from neighborhood parents— from neighborhood moms. And that they invited people from all over the city to be involved."— Kim Bowsky, Chicago Public Schools teacher
You might not associate colorful balloons and a room full of school displays with a bold act of resistance, but that is what happened at Roberto Clemente High School on a gray drizzly November day in Chicago. It was the Neighborhood Schools Fair, a testament to the love that Chicago has for its neighborhood schools  and their critical importance to the city.
It's been a tough year for the education justice movement in Chicago. A lot of heartbreaks. A lot of tears. Fifty schools closed. Massive layoffs of teachers and other education workers. Sit-ins and multiple arrests. Parents frantic about their children's' safety going to school. Deep emotional ties among favorite teachers and their students broken. A steady stream of insults and lies coming from City Hall and the Chicago Public Schools(CPS) top brass.
The movement really needed affirmation. Something positive and joyful. Thankfully a small circle of activist women who call themselves "The Badass Moms",  or BAM, got together and hatched the idea of a one day exposition where neighborhood schools could set up displays, hold workshops and talk about their successes and their challenges.
The Roberto Clemente High School display
Rousemary Vega, one of the BAM's, told me that the goal was to create a web of relationships among neighborhood schools to build for a better educational future. This web would cross traditional racial and neighborhood lines in one of the most segregated cities in the USA, where neighborhood insularity and distrust of "outsiders" is the stuff of legend. Read more
I was 4 chapters into the George Pelecanos crime fiction novel The Turnaround when a sudden chill ran down my spine. Omigod, this is the story of the Ken-Gar 5. I had to put the book down as my mind traveled to 1972 Kensington, Maryland where an ugly racial incident ended in tragedy. I had lived in nearby Wheaton until my teen years and was writing for a local underground paper when that racial clash exploded. Our paper, the Spark, had covered the story and talked to witnesses.
Three young white men, all from neighboring working class Wheaton, had driven into the small black section of Kensington called Ken-Gar on a hot summer night and thrown a firecracker at a group of black residents while yelling racial epithets. The firecracker landed near the 4 year old daughter of one of the blacks. The three whites sped down Plyers Mill Road through Ken-Gar thinking they could easily escape in their souped up fast car.
They thought wrong. Having never been in Ken-Gar before, they didn't realize that Plyers Mill Road dead-ended. There was only one way out of Ken-Gar. Back the way they came. After turning around and driving a short distance, they found the street blocked by angry neighborhood residents.
Ken-Gar's turnaround in 2012
Similar nasty racial incidents happened frequently in Ken-Gar, but perpetrated by racists who knew they had to turn their cars around and toss their abuse on the way out. Shots had also been fired into Ken-Gar by persons unknown, but presumed to be white racists firing from across the railroad tracks that ran next to the community.
This time the incident ended with one white man shot dead, another badly beaten and one who managed to escape into a nearby wooded area. Five black men were indicted for the killing and the beating. The shooter was eventually sentenced to 10 years in prison, although at the trial he claimed to have fired at the street, not at a person. Maybe that was true. Maybe not. It all happened very fast.
The Ken-Gar community petitioned for the release of the shooter while also issuing a statement of regret for the death and injuries that had resulted from the confrontation.
Author George Pelecanos wisely decided to alter the basic details and fictionalize the characters. Ken-Gar is renamed Heathrow Heights but remains a small isolated black community in Maryland's southern Montgomery County.  Much of the story is placed in the present day with the characters much older.  The title of the the book, The Turnaround reveals multiple meanings as the novel progresses.
The tracks next to Ken-Gar in 2012
His fictional version raises critical questions about how race, class and masculinity shape our personal lives as well as the social milieu in which we live. Pelecanos sets up the fictional confrontation in Heathrow Heights by introducing us to three young white male characters and three young black male characters.
The white men of The Turnaround
Pelecanos describes the white male teenagers of working class Wheaton in these words:
"The fathers…worked service and retail jobs. Many of them were World War II veterans. Their sons would grow up in a futile, unspoken attempt to be as tough as their old men."
The Gran Torino that roared into Heathrow Heights on that hot summer evening contained three of those white teenagers. None of them knew that within minutes Billy Cachoris would be dead or Alex Pappas would be badly beaten and nearly blinded. Or that Pete Whitten would outrun disaster.
Billy's dad recited nasty racist jokes, even on the steps of the Greek Orthodox temple. But Billy didn't hate black people. He feared them.  He would try to prove his manhood by driving into Heathrow Heights.
Pete Whitten had college plans and financial ambitions.  Whitten didn't fear black people. He looked down on them…and on his own white friends. It was his idea to drive into Heathrow Heights, toss a cherry pie at the first black person in range and shout,"Eat this, niggers!"
When the confrontation begins, he will desert his friends and escape into the woods. A man had to know when the odds were against him. A man looked out for himself and puts is own interests first. A man could not be endangered by a foolish mistake involving people who were his social or racial inferiors. That was Pete's idea of masculinity.
Alex Pappas was in the back seat, sinking down so as not to be seen. The white boy talk from Pete and Billy that evening about pussy and "banging black whores" had bored him. Alex respected his girlfriend Karen who was trapped in a bad family situation. He wanted to be comforting her after another family blowup, but she was home caring for her baby half-sister. So instead he was stuck with 2 guys he didn't even really like very much.
John Pappas, his Greek immigrant dad, a marine veteran of the WWII Pacific campaign, was the owner of a small diner just off Dupont Circle in DC.  His dad was in the diner everyday laboring along side of the racially mixed crew. Alex worked there also. John Pappas believed that masculinity was defined by work:
"Work is what men did. Not gambling. Not freeloading or screwing off. Work."
He paid his employees decently in cash and helped them out financially when they needed something extra. That's what men did. Took care of their own. In return his employees were as fiercely loyal to him as he was to them. His spouse Calliope was a stay-at-home mom. She kept the household together with a complete trust in her husband, a trust that was returned in kind. As Pelecanos puts it, if John was the workhorse, it was Calliope who kept the stable clean.
Although hardly a flaming liberal, John was no racial bigot. Nor was he a cruel sexist who abused his wife. Alex had tried live up to his father's definition of manhood, but it was an incomplete definition, one that left Alex adrift. John tried to isolate himself from the maelstrom of social change that characterized the 1960's. So when it came to working out the social meaning of that tumultuous and confusing time, Alex was on his own.
Because Alex wanted to fit in, he tolerated the racism and sexism of his friends, though with no real enthusiasm. He would suffer a terrible beating on the streets of Heathrow Heights for his inability to resist what he knew in his heart was terribly wrong. A man adrift is a man in danger.
The black men of The Turnaround
"I'd like to have my own gas station someday, make real money. Live in a place where redneck white boys don't drive by my mother when she's walking home from the bus stop up on the boulevard after getting off work. Calling my mother a nigger after she's been on her feet all day, wearing that cleaning uniform of hers. She who never judged anyone."—– James Monroe
Three black teenage residents of Heathrow Heights, James Monroe, Raymond Monroe and Charles Baker spent that hot Maryland afternoon before the racial attack drinking pop or beer. They talked about the girls they wanted to experience, though none of them had girlfriends at the time.
James worked part-time at the local Esso service station, pumping gas and cleaning windshields in those long ago days before self-service. He was the first black teen hired by the owner. James took great pride in his work. A man needed a job to follow the masculinity code that James embraced. A man also needed to go the extra mile on that job. Not for the boss. But for his own sense of self-worth.
This impressed the service station owner who offered to pay half the tuition for a mechanics class. James was following in the footsteps of his dad Ernest Monroe, a bus mechanic at DC Transit. Ernest, handy with tools, took pride in keeping up their small bungalow by making prompt repairs and keeping it freshly painted. That's what men did. Fixed what was broken.
Ernest spent evenings with his wife Alameda, watching TV and reading the Washington Post. Ernest Monroe never met John Pappas, but they would have understood each other. A man stays faithful to his spouse. A man works hard to support his family. A man lives a quiet life within a cocoon of work and home.
Alameda cleaned houses for white families. She was a proud Christian woman, even expressing compassion for the wounded George Wallace, lying in a hospital bed at the nearby Holy Cross hospital after the 1972 assassination attempt.
It was Ernest who told James to look after Raymond who was struggling with his own masculine role. Raymond had a juvie record  for vandalism and petty theft. James hoped to get Raymond a job at the Esso station and put him on the right path to manhood, especially because Raymond was spending too much time with Charles Baker.
Raymond was young and unformed. Baker's influence would be toxic.
Baker, the child of an abusive family, carried a dangerous smoldering rage in his heart. Baker had once attacked a young man armed with a box cutter who questioned his manhood, breaking the man's arm over his knee.  For Charles, manhood was anger and aggression, both verbal and physical. Fuck with Charles Baker and he would introduce you into a world of pain.
James thought Charles Baker was on a hell-bound train and didn't want Raymond along for the ride. James believed that a man needed to put some boundaries around his machismo. James had tempered some of his early anger at white people by working and going to school with them. They were not his friends, but he learned that at least some of them were  OK.
All three young black men shared one thing though, an increasing frustration with the white boys who drove recklessly through the neighborhood tossing objects and screaming racial epithets. Men should not allow that to go on unchallenged. Violence must be met with violence.
Raymond was especially stressed because his mom had recently been a target of verbal abuse. Charles called them "white bitches" and offered to "shoot the motherfuckers." Raymond felt a need to impress Charles, something that James noted with trepidation.
James thought the white boys were cowards, too scared to get out of their fast cars. But James also had recently bought a gun,"…just to scare those punks." He had no desire to kill anyone, just to frighten them off.  But plans involving men and firearms easily go awry. That evening Charles urged that the gun be fired at Billy, already lying on the street bleeding from a blow to face. And it was Charles who would smash the face of Alex Pappas with his fist and his boot.
Masculinity and Race
Gender and race are both social constructions. In the USA of 1972, those social constructions were undergoing a major remodeling. The young people of Wheaton and Heathrow Heights were now living in a world where rigid gender and racial hierarchies were being challenged.
Wheaton's population was overwhelmingly white. Wheaton young white men normally had little contact with black people. In their white isolation, a culture of white masculine supremacy was easy to maintain with its racist jokes and a variety of racial epithets. Part of that culture was verbal harassment and vandalism, as well as physical assaults on the small number of black people in the area.
For some of Wheaton's white male population, masculinity included the Wheaton white boy tradition of visiting Swann Street or 14th and T Streets in DC to engage the services of black prostitutes. Treating them in a disrespectful degrading manner was all part of the "experience". Billy and Pete loved talking about it. Alex was embarrassed by it.  The masculine code for dealing with young white women was generally very sexist, but racism made their treatment of young black women even worse. Sexism mixed with racism made for a nasty brew.
People like Pete and Billy and to a lesser degree Alex, did not understand what throwing a pie at a black person really meant to the residents. Their white isolation blinded them. After Pete Whitten ran, Billy got out of the car and tried to apologize.. But what was a minor prank to the 3 Wheaton boys, was deeply hurtful to the Heathrow Heights community.  The white boys would pay for the sum total of racial incidents that had plagued the community.
The civil rights and black power movement had led to a greater assertiveness. While neither SNCC or the Black Panther Party had ever been in Heathrow Heights, their indirect influence was felt there. James, Raymond and Charles were not "political" but felt that as black men, it was imperative to stand up against any gross manifestations of white supremacy.
James thought that ignoring minor racial affronts was part of maintaining his masculine dignity. A man didn't sink to their level. Raymond was still figuring it all out. But for Charles, his earlier ordeal of domestic neglect and sexual abuse had removed any inhibitions about violence.
Part of their code of black masculinity was a strong desire to protect the dignity of their mothers. Maryland's history of slavery and segregation included a brutal tradition of exploiting black women. Defending their community from attacks is what men were supposed to do. If that meant whipping some white boy's ass, then so be it.
Both the black and white young men grew up thinking that violence was part of manhood. A man had to be tough, even if he was not the aggressor. Ernest Monroe had taught each of his sons to "walk like a man", showing confidence at all times. In both Wheaton and Heathrow Heights, fighting among young men was not uncommon. A man had to be prepared to defend himself, his friends and his family. The threat of violence was accepted as part of everyday life.
This came in handy when the US government was scouring the country for soldiers to fight in the Vietnam War. Communities like Wheaton and Heathrow Heights sent more young men to fight than the upscale Montgomery County communities like Chevy Chase or Potomac.
The Heathrow Heights residents petitioned for the release of the shooter, a proud black man who had been driven to desperation by the racist attacks on the community. But they also expressed regret for the death of Billy. What the white boys had done was wrong. But no one deserved to die that night. In a better world, a non-racist world, none of it would have happened.
Except for Pete Whitten, all the survivors of that violent night in Heathrow Heights would bear the consequences of that violence for decades to come.
When the book switches to the present, we find out how it affected each one of them.
Alex, permanently scarred in the face and plagued with guilt over Billy's death, abandoned his dreams of becoming a writer and instead took over the coffee shop. He mourns for his son killed in the Iraq War. Another pointless death in the often gray world of Alex Pappas. He delivers free pastries to the wounded at Walter Reed Army Medical Center, finding some solace in that. He is still adrift in ways he does not understand.
James Monroe was sentenced to prison for 10 years for the shooting. Because he stabbed an inmate in a prison altercation, he pulled another 10 years. His dream of opening a service station dashed, he works in an unheated semi-legal garage for minimum wage.
Charles Baker went to prison for a shorter time after the Heathrow Heights confrontation, but became a career criminal and returned to prison several times. He forms opportunistic relationships with black women whom he exploits, using charm to lure them into to the traps he sets.
Much like Alex, Raymond is also consumed with guilt. He saw what incarceration had done to his brother James and the death of Billy continues to haunt him. Still grieving for his wife who had died of breast cancer and worried about his son deployed to Afghanistan, Raymond finds some solace in his physical therapy work with wounded soldiers at Walter Reed.
The only one to escape unscathed was the amoral Pete Whitten, who unlike the amoral Charles Baker, had the advantage of being white and headed for a law career. He is now a prominent and wealthy member of the bar. He has long abandoned the scruffy world of Wheaton for the comfort of upper class Chevy Chase.
The living characters meet again in the 21st century to resolve for better and for worse, what had begun in the Heathrow Heights of 1972. Pelecanos mixes both tragedy and hope in that unexpected reunion, as the book hurtles toward a climax of both violence and reconciliation.
The civil war in the working class
The fictional confrontation of The Turnaround as well as the real events that inspired it were one more battle in an ongoing civil war: the civil war within the working class. It began in the colonial legislatures of 17th century Virginia and Maryland when black and white labor were separated into a racial caste system.
White supremacy was born then and became closely tied to the already prevailing male supremacy. White male supremacy developed traditions that were self replicating, aided by a ruling class who used these as a means of labor control. That pattern spread, adapting to changing times in a Darwinian evolutionary fashion.
There have been many instances when white labor and black labor have maintained a sometimes precarious solidarity. But all to often it is been white workers fighting to keep their higher status against efforts to achieve racial parity.This civil war within the working class has left deep scars on the USA.  Even today, it is hard to have a rational public discussion about race, as if the nation is suffering from a massive case of PTSD.
This civil war pitting one part of the working class against the other has come with a price tag, one that goes beyond the countless personal tragedies that have resulted. A weakened and divided working class has ceded  too much power to the wealthy. As a result, the US working class standard of living lags behind other comparable nations.
Although not conscious of it, Billy, Pete and Alex were soldiers on the wrong side of that civil war. Drafted into a system of white male supremacy at birth where even a pie becomes a psychological weapon of war, they failed to challenge that system. In real life some white people in Wheaton and the surrounding areas did openly challenge the racism of that time, becoming race rebels and allying with black activists. But they remained a minority, however well intentioned.
Ending this civil war within the working class is imperative. The ravages of neo-liberal capitalism cannot successfully be confronted with the present level of racial division, despite the gains that have been. After all, we did elect a black president, even if he has proven to be a disappointment to many.
George Pelecanos writes crime fiction, not socio-political analysis. But as The Turnaround reaches its conclusion in the present day, Alex, Raymond and James are struggling not to forgive and forget, but to forgive and remember—and move toward positive action together. The women in their lives will become involved too. They have to be. The men cannot do it alone.
We now know that as a social construct, gender is a spectrum, not a set of rigid categories. Sticking with rigid gender roles like traditional masculinity and femininity is the road to perdition. It won't do a damned thing to end racism. Or overcome neo-liberal capitalism.
Distorting the bitter history of racism and sexism only helps the wealthy minority who profit from them. Neo-liberal capitalism produces far too many people with the cold blooded class arrogance of a Pete Whitten combined with the violence of a Charles Baker. They fill the halls of power from Washington DC to Wall Street.
We can do better.
Ken-Gar in 2012
This review first appeared in Red Wedge Magazine
Sources consulted
"Twisted" by George Pelecanos- New Yorker magazine: An account of his own years growing up in the Wheaton area. Requires registration to read entire online article, but available in full in the print edition.
"5 Ken-Gar residents arrested for murder after racists attack their community" by the Spark Collective (October 6 1972)
"Ken-Gar has a long history of harassment by white racists" by the Spark Collective (October 31 1972)
"Slaying Puts End To Prank: Youth Killed After Throwing Firecrackers"
by Edward Walsh- Washington Post (Aug 20, 1972)
"Ken-Gar Residents, Officials Discuss Slaying of Youth, 18" by Claudia Levy- Washington Post (August 31 1972)
"Trial Opens In Death at Kensington" by LaBarbara Bowman- Washington Post (Nov 27, 1973)
"Didn't Intend to Kill Youth, Suspect Says" by LaBarbara Bowman- Washington Post (Nov 29, 1973)
"Man, 28, Guilty in Slaying: Manslaughter Is Verdict in Ken-Gar Case" by LaBarbara Bowman- Washington Post Dec 1, 1973
"Leniency Asked In Ken-Gar Death" by The Washington Post staff writers (Jan 4, 1974)
"Ken-Gar Killer Gets 10 Years" by Martha M. Hamilton- Washington (Feb 21, 1974)
Obituary for Gene P. Hopkins Washington Post (November 13 2011) Hopkins pulled the trigger that night in Ken-Gar.
In October of 1991 a convergence of powerful weather systems created a monster storm in the cold waters of the North Atlantic. It killed the entire crew of the fishing boat Andrea Gail among other storm casualties. Journalist Sebastian Junger used the phrase "The Perfect Storm" as the title of his book about this unusual weather event. The book became the basis for a Hollywood film of the same name.
Since then the term "perfect storm" has entered the language to mean any catastrophic collision of natural, political, or social forces that combine into a disaster greater than the sum of its parts.
Lasting only a few days, the 1991 storm was centered along the US eastern seaboard region. Neo-liberalism, climate change and militarism is "The Perfect Storm" engulfing the entire biosphere and is projected to last for years to come. It is a perfect storm of planetary proportions.
Domination of the global economy by powerful corporations and financial institutions created neo-liberal capitalism or neo-liberalism for short. It is the latest evolutionary restructuring of global capitalism, which has shown a remarkable ability to adapt to changing conditions.
The destructive effects of neo-liberalism
We can see the direct effects of neo-liberalism in the collapsing factories and deadly fires in the Bangladeshi garment industry.  We can see them in the privatization of public education in the USA and the proliferation of corporate dominated charter schools.We can see them in the melting polar ice caps as well as the number and intensity of extreme weather events. We saw them in the Iraq war; a war for control of oil resources.
Neo-liberalism seeks to reduce everything to a market commodity. Its direct attacks on working class organizations like unions; its privatization of the public sphere; and its dismantling of public welfare have dramatically increased the global gap between rich and poor.
Lately institutions like the IMF and the World Bank have indicated that perhaps neo-liberalism has gone too far, been too destructive. But it is doubtful that even these powerful organizations have either the will or the means to restrain it.
Perhaps most frightening, neo-liberalism has also contributed to global environmental degradation, most notably climate change. Its profits are heavily fueled by coal and petroleum.
The least worst case scenario for this planetary vandalism is grim enough. The worst case scenario is a mass extinction more severe than the Permian extinction 250 million years ago, when the majority of the earth's living organisms perished because of sudden climate change.
The social effects of neo-liberalism have fueled civil resistance including strikes, occupations, mass marches and riots. From Occupy Wall Street, to Tahrir Square; from the mass strikes in South Asian garment factories to the thousands of striking teachers who jammed the streets of Chicago; from the indignados of Spain to the student strikers of Chile; from the anti-nuclear marchers of Japan to the shack dwellers movement of South Africa, the resistance to neo-liberalism is truly global.
But neo-liberalism's global plunder have also been at the root of ethnic and religious strife, as well as wars among nations. The competition for scarce resources has led to desperate acts and appalling violence, often encouraged by authorities who find it a useful form of social control.
As a result, an outrageous amount of the planet's resources have been diverted into militarization. This includes the militarization of police, who now appear in armored vehicles and have easy access to automatic weapons if tear gas, plastic bullets, sound cannons and riot clubs prove inadequate for suppressing mass protests.
Even the corporate media has shown some recognition of the dismal state of capitalism today.
Time Magazine had an article entitled Marx's Revenge: How Class Struggle Is Shaping the World. Forbes published one called The U.K. Riots And The Coming Global Class War. Bloomberg BusinessWeek released this one: What Would Karl Marx Think?. Fortune faced up to climate change with this apocalyptic piece,"Cloudy With a Chance of Chaos",
Oh, and lets not forget the Pentagon, always preparing for the next war(s) as shown in this report,"An Abrupt Climate Change Scenario and Its Implications for United
States National Security".
Excerpts from some this writing would not look too out of place in your typical socialist publications. Liberals, progressives and socialists alike might be wondering if socialism is perhaps around the corner.
So what about socialism?
Not so fast. The socialist movement is not in great shape. The twentieth century socialist movement broke up into roughly three groups: Soviet-style repressive  "communism", social democracy and a small number of dissident socialists who embraced neither model.
Soviet-style authoritarian regimes mostly collapsed into typical capitalist countries. Those that did not, like China or Vietnam, became authoritarian market economies under repressive state domination. Vietnam is now a major destination for global corporations seeking cheap labor.
Social democracy still exists in some countries, with Scandinavia being its jewel in the crown. Social democracy did tame the worst excesses of capitalism where it took root, but its social welfare systems are now under attack from neo-liberal pressures. Social democratic parties now generally collaborate with the austerity pushed by global neo-liberalism, often as a kind of austerity-lite.
An extreme example would be the USA whose Democratic Party emerged from the Franklin Roosevelt years with a social democratic platform, but which today gives little sign that such a thing ever existed.
Both major trends of the 20th century socialist movement represent no threat to the dominant neo-liberalism of the 21st century.
As for the dissident socialists who yearn for an economy owned by the working class and a society governed in a democratic fashion, they remain a minority with relatively little organizational influence. At least not yet. But many of their best ideas have permeated the global justice movement.
Ironically, classical Marxism teaches that socialism will emerge from highly developed industrial bourgeois societies. But what if industrial civilization is creating the very economic and environmental crises that will result in its self-destruction? An old labor song says,.."we will build a new world from the ashes of the old."
But what if the ashes are dangerously radioactive or chemically poisoned?
From global resistance to global revolution?
So what does the future hold for the diverse civil resistance confronting today's global Perfect Storm? The World Social Forums reveal a global justice movement with competing visions of how to build economically cooperative egalitarian societies that are environmentally sustainable, appropriately technological, and practice participatory democracy.
With the global neo-liberal elite waging a brutal well armed class war against the rest of humanity, can global resistance transform itself into global revolution? No one can say with any certainty. That is a feature of revolution, not a bug. They can erupt unexpectedly, surprising both those who welcome them and those who fear them.
The clock is ticking for finding solutions. Normally cautious scientists are ringing a clanging alarm bell about climate change while normally cautious economists are doing the same about the accelerating wealth gap between rich and poor. Even ex-generals are raising their voices against the colossal waste of human life and resources resulting from runaway militarism.
In truth, The Perfect Storm is already raging in some parts of the world.
One model of resistance and transformation
Recently climate activist Tim Decristopher visited Chicago and gave a well received talk. He stated bluntly that it is too late to stop dangerous climate change. We may be able to limit its most extreme effects, but at this point that's the best we can hope for. So what do we do?
He pointed to Occupy Sandy as an example. When Hurricane Sandy devastated communities in the NYC area, members of Occupy Wall Street organized themselves into the Occupy Sandy relief effort, already having a network of experienced individuals with access to resources. Working directly with residents, some of whom were socially and politically conservative, they showed what was possible.
Occupy Wall Street and its new allies were able to organize Occupy Sandy as both a survival and a resistance group, one prepared to clear wreckage, search for survivors and rebuild; but also to make demands on the State as people learned how to wage an egalitarian cooperative resistance.
Dechristopher was directing his remarks toward environmental groups, but they apply to any socio-political organization. His point? That groups with experience, imagination and cooperative socio-political relationships are best prepared to deal with crises.
70,000 years ago humanity faced the possibility of total extinction when a huge volcano in Sumatra exploded and disrupted the earth's climate for a time. A fraction of the human population survived. We can only speculate on how they did it, but I suspect it was because they had deep experience in cooperation within their small tribal groups.
We must apply that human ability to cooperate in the face of danger to an entire planet. The Perfect Storm of neo-liberalism, climate change and militarism will not go away on its own.
Dr. King once spoke of the "fierce urgency of now." BTW, now means NOW.
Bob "BobboSphere" Simpson has been a socialist since childhood.