State governments across the USA have been cutting Medicaid and health care-related funding faster than Smithfield butchers hogs. These programs were supposed to help low income people, many of whom already suffer from the poor health that often comes with poverty. 
When care is restricted or cut off altogether, some people are going to die prematurely. They will most likely die quietly, perhaps mourned by their families and friends. Some will die alone.They may die in great pain or they may pass away in their sleep, but inevitably, some deaths will result from decisions made by politicians who don't worry about choosing between food and medicine. One of the persistent myths in the USA is that poor people can "always get free health care" if they want it. We need to dispel that myth. Somehow. Read more
National Nurses United(NNU) took up the cause of Robin Hood at Chicago's downtown J.P. Morgan Chase building on June 19. With its of merry band of tax reforming nurses, the  NNU held a lunch hour rally to press for a financial transactions tax (FTT) or as it is more commonly called, a "Robin Hood Tax". Chicago was among 15 cities where similar rallies were held.
Easily recognized by their red scrubs along with their Robin Hood hats and masks, NNU  members described the Robin Hood tax in signs that read,"It's Not a Tax On the People. It's a Tax For the People."
 Continuing a campaign that saw several thousand nurses and their supporters in Chicago's Daley Plaza during NATO week, the nurses hope that Congress will pass such a tax to help finance a genuine economic recovery by investing in housing, education, health, infrastructure, green jobs and other needs. Read more
Seniors, people with disabilities and health care workers blocked the front entrance to the Chicago Mercantile Exchange(CME) Wednesday around 9:30 this morning, as well the adjacent Jackson and LaSalle Streets. Police moved in about half an hour later and ordered people to clear the streets or face arrest. Demonstrators were protesting the CME's parent company (CME Group) which was awarded multi-million-dollar tax breaks while human services were being cut by the State of Illinois.
It's a long ride on the CTA Green Line from Oak Park to 63rd and Woodlawn Ave where the Mental Health Movement has occupied an unused lot in front of the Woodlawn clinic. I've taken that ride several times in the past week or so, most recently on Saturday April 21st for the Mental Health Movement's day-long health fair. 
The Mental Health Movement is made up of mental health workers, clinic users and their supporters. It has been fighting the closure of 6 mental health clinics in Chicago. Thirty-five people have been arrested so far in the struggle. More about that HERE and HERE. Yesterday, Mayor Rahm Emanuel offered free bus passes to patients of the closed clinics(!)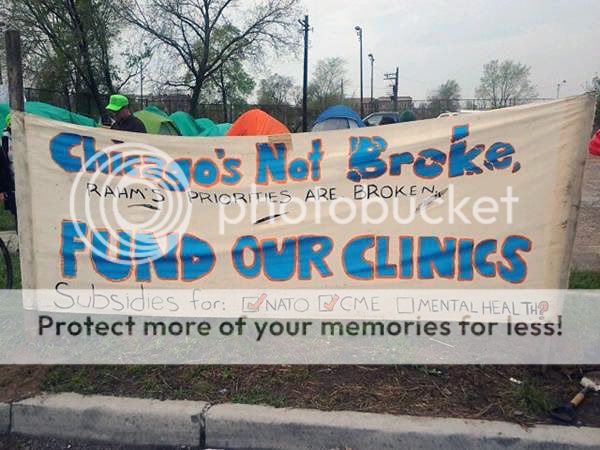 Photo of the original tent encampment
While riding the El down to the Monday morning press conference by Chicago's Mental Health Movement, I couldn't help but reflect on Rahm's Emanuel's problems with obsessive-compulsive disorder. He is obsessive about funneling money to Chicago's wealthy and compulsive about his attacks on services for Chicago's working class. Rahm's latest offensive is the closing of 6 mental health centers.  
The issue of closing mental health clinics first came up last fall during the protests surrounding Mayor Emanuel's proposed budget, which also included slashing library services, privatization of neighborhood health clinics and layoffs of public employees. There was an hours long sit-in outside the Mayors office demanding that all mental health clinics remain open. Below is a video produced shortly after the fall round of protests.
OUR LIVES ON THE LINE: Voices from Chicago's mental health clinics
Last Thursday night (April 12), a group of patients and mental health workers barricaded themselves inside the Woodlawn Mental Health Center on the South Side to protest its closure. Early the next morning on April 13, police used  tools to break through the door and arrested 23 people who were inside.  
Inside the Woodlawn Clinic before the bust:
Outside of the Clinic before the bust:
Together with with Occupy Chicago, protestors than set up a small tent village outside the clinic to rally support and gain news coverage after months of being ignored. The protests are being led by Southside Together Organizing for Power (STOP), a 5 year old community group. The Mental Health movement is a member of STOP. Occupy Chicago has helped organize people and gather supplies to keep the tent city protest going. The tent city endured a couple of rough nights due to bad weather but is still holding strong. 
WGN TV reports on the tent encampment:
At the Monday morning press conference clinic patients and mental health workers who had been arrested told of not being screened for possible mental health episodes, of having their medication denied to them and being ridiculed by jail personnel. One woman said that she was groped by a male officer in her vaginal area under the guise of being searched, a search that should only be conducted by a female officer. 
There was fear expressed that if clinics are closed, there will be more police brutality toward mental patients, more drug addiction, more self-destructive behavior and more suicides as patients seek help elsewhere, a help that may not be forthcoming as many of these patients are indigent. 
Later the group met with the  officials of the Chicago Department of Public Health (CDPH) who tried to reassure people that their needs would be taken care of by the CDPH "partner institutions", as well as the remaining public clinics. This was met by deep skepticism by the Mental Health Movement activists who told of people already being turned away after referrals. One woman gave details about the understaffed Greater Lawn Mental Health Center whose workers cried when they had to turn away new patients. 
The term "partner institutions" is just a gussied-up term for privatization, and private health care has no interest in patients that don't generate a profit.
The Mental Health Movement issued a 23 page report last January with the help of the American Federation of State, County and Municipal Employees (AFSCME). I have quoted from that report below. For the full report, please go HERE. 
Dumping Responsibility:The Case Against Closing CDPH Mental Health Clinics 
The city's claimed cost savings are tiny and illusory. CDPH claims closing clinics will save $2 million—barely 1% of its $169 million annual budget. And this claim ignores the budgetary, societal and human costs of inevitable disruptions in patient care—including increased emergency room visits, hospitalization, police intervention and incarceration.
CDPH should cut waste—including $1.67 million in new spending on upper management salaries, outside contracts, advertising and surveys. This amount should be used to sustain and improve city MH clinics.
CDPH would transfer at least 1,100 Medicaid patients to private providers— effectively giving away federal reimbursement for their services. If this plan is budget-driven, it is illogical to turn away patients with the ability to pay.
Closing six clinics will force 2,549 patients to travel to other city clinics or seek private care. There is no guarantee that private providers and hospitals will offer treatment regardless of ability to pay. The system's more than 3,000 uninsured individuals are least likely to find private care since such providers already face shrinking budgets and reduced state funding.
CDPH is rushing to close clinics in just eight weeks—despite having six months of funding in the budget and nothing but an outline of a plan for patient care. CDPH has circulated a list of private providers, but admits it has no formal agreements with or information regarding capacity, services and wait times from these agencies.
 As I sat in on the meeting with the Department of Public Health this morning, I thought of my own struggles with depression, of being lost in that long dark tunnel of despair and on at least two occasions, wondering if I was going to come out alive. Fortunately I had access to some limited treatment, even though my health insurance didn't cover it because it was a pre-existing condition. When people are in that kind of state, it's difficult for them to fight their inner demons, much less ones with the power of the Mayor's Office and the LaSalle Street financial barons. My heart goes out to the brave patients of the Woodlawn clinic.
 But despite all of the facts presented and the personal stories told, the Mayor's obsessive catering to the wealthy and his compulsive dissing of the working class goes on unabated. Mr. Mayor, don't you think that's a little crazy?
Faces of Chicago's Mental Health Movement
Sources consulted: 
Rallying against mayor's plan to close mental health facilities  by Kaley Fowler
Activists Set Up New Encampment At Clinic In Woodlawn  by aaroncynic
Southside Together Organizing for Power
Politics in Woodlawn: Occupation of the Mental Health Clinic by Ramsin Canon
Protesters Stage Sit-In Of Woodlawn Mental Health Clinic by aaroncynic
Dumping Responsibility: The Case Against Closing CDPH Mental Health Clinics by the Mental Health Movement and AFSCME Council 31